---
Getting a return on marketing investment
All marketing is an investment (even if too many in business still view it as a cost). Whether you are paying third parties to create content and campaigns or hiring people to run in-house operations, you'll want to be sure you're getting good value for your money.
A focus on return on investment is nothing new. Financial management has always asked what the business is getting for 'all that money we give marketing'. But how this is calculated has important implications for marketing's effectiveness.

As with so many marketing related calculations, there is no single way of calculating ROI. You can focus on pipeline, customer lifetime value (CLV), revenue, brand value or pretty much anything that matters to the business.

In our research, we see the full spread.
Sales leads or business value?
The most common focus is on the value of pipeline generated (used by 27% of respondents). Just behind, on 24%, is customer lifetime value with marketing-generated revenue trailing in third on 18%. There is some variation by company size (the focus on revenue places second in mid-market companies) and by sector (customer lifetime value is a clear leader in construction and revenue comfortably wins in manufacturing).
What's interesting here is that some of these measures (as with the pipeline vs revenue split we saw earlier) are fundamentally about input to sales whereas others are about value to the business.
By focusing on pipeline, there is an implicit split between marketing and sales. Marketing generates leads (hopefully well qualified ones) and passes them across to sales (who hopefully agree that they are high enough quality and do something with them). With the right systems and internal SLAs in place, a formal split needn't be the case, but this still smacks of throwing leads over the wall to sales and moving on to the next.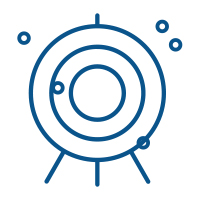 ---
At best, today's B2B marketers are hitting their ROI targets under

50%

of the time.
--- Across the study, our respondents hit their ROI targets just under

45%

of the time.
The customer lifetime value and revenue approaches are fundamentally about value to the business (either over the short or long term). This revenue will only be realised in the first instance if everyone along the sales and marketing chain plays their part. And measuring and predicting longer term repeat revenue throws more emphasis onto customer satisfaction, retention and cross-sell/upsell initiatives.
Hitting the numbers
So you have a definition of ROI, what kind of levels of return are we talking about?
In our study, we see a pretty even split between marketers aiming for between 1:1 and 2:1 (27%) and those setting a higher benchmark of between 2:1 and 5:1 (28%). But it's one thing to set a target and another to hit or exceed it.
Across the study, our respondents hit their ROI targets just under 45% of the time. Enterprises fare slightly better than the mid-market and the top sector performer is tech (hitting their targets 53% of the time).
And this is where the rubber meets the road.

So we asked the respondents: Just how confident are you of hitting your revenue and pipeline targets?

Just 23% said they were sure of hitting their targets. This was bolstered by marketers in professional services and tech being the most confident (50% and 40% respectively). However, at the other end of the spectrum, both financial services and manufacturing
appear to be having a crisis of confidence with just 3% of marketers sure of hitting their targets.

In this regard, enterprise businesses fare worst. Some 40% of enterprise marketers are either not very confident or not at all confident of hitting their targets.

So what's causing this? That's where we go next.

The big question
---
How you determine ROI can have a significant impact on how you market, are you making the best choice for your business?
01
Make an informed decision about how you'regoing to measure ROI – be clear about the effects that this may have on how you approach marketing in the business.
02
Do a proper assessment on your ROI performance over the last year – what's really delivering for your business?
03
If you're not confident of hitting your targets, have the difficult conversation with your CEO and CFO early – it's better to under-promise and over-deliver. It will also demonstrate that you believe marketing is core to business success (not just the people who sort out events, brochures and that internet stuff).